Anthem AVM60 11.2 Pre-Amp / Processor - Processors / Home Theatre Controllers
Anthem 11.2 Pre-amplifier / Processor. Few A/V Preamplifier-Processors offer the innovation and performance found in the all new AVM 60.
Price:
NZ$
6,324.94
including GST
NZ$
5,499.95
excluding GST
Anthem | AVM60 11.2 Pre-Amplifier/Processor
Multi-channel flexibility

Few A/V Preamplifier-Processors offer the innovation and performance found in the all new AVM 60. Features include Dolby Atmos & DTS:X immersive audio decoding, support for UHD Blu-ray and 4K60 through HDMI 2.0a with HDR. HDCP 2.2 and 18.2 Gbps are also included allowing switching for compatibility with the latest video formats.

Audiophile-friendly features include a toroidal power supply, premium differential-output D/A converters with 32-bit conversion and sampling rate optimized filters for hi-res sound. Premium A/D converters with 106 dB signal to noise ratio ensure the highest- quality sound when using analog sources.

DTS Play-Fi offers easy-to-use music playback from popular streaming services and locally networked sources, controlled through iOS, Android or PC apps.
AVM 60 Features & Functions
11.2 Pre-Amplifier Channels
Dolby Atmos®
DTS:X™
ARC™ Anthem Room Correction
4 Speaker Profile Memories
Quad Core Digital Signal Processing
Two Sub Out Jacks (parallel)
Premium 32-bit / 768 kHz Differential-Output D/A Converters
Wireless Network Connection
DTS Play-Fi® + "Works with Alexa" certification – Local and Streaming

HDMI & Video
HDMI 2.0a
HDCP 2.2
4:4:4 Subsampling at 4K60 (18.2 Gbps)
High Dynamic Range (HDR)
Dolby Vision™ Compatible
Hybrid Log Gamma (HLG)
BT.2020 Color Gamut
On-Screen Display with 4K 50/60
4K 50/60 Switching
   
Additional Features & Functions
FM Tuner
Low Standby Mode power consumption
Remote control apps for iOS (Apple).
   
Decoding
Dolby TrueHD
DTS-HD Master Audio
   
Listening Modes
AnthemLogic – (11.2 channels)
Dolby Surround
DTS Neo:6 – Cinema, Music
All-Channels – All-Speaker Stereo
   
Inputs
8 HDMI inputs (7 rear and 1 front-panel input)
Digital Audio Inputs: 2 Coaxial + 3 Optical
5 Stereo Analog RCA Inputs
HDMI On-Screen Display – setup, video adjustments, status, song/artist info from radio stations
MHL Supported Inputs
xvYCC, Adobe RGB, Adobe YCC601, sYCC601, Deep color
2 Parallel Outputs
Consumer Electronic Control (CEC)
Audio Return Channel
Standby Pass-through
   
Custom Installation
IR Control
RS-232 Control
IR Input (Configurable)
12V Trigger Output
Control System Drivers
   
Additional Features
Backlit Remote Control
Sidemount Rack Kit (sold separately)
Design Details
True-Balanced XLR Pre-Out
Electrical noise in audio is often generated due to the connection with other AV components and due to the connection between the preamplifier-processor and amplifier, as well as from other sources of external noise. To ensure the AVM 60 is not affected by this distortion, it uses True-Balanced XLR Pre-Out connections to achieve a balanced transmission that is highly noise resistant.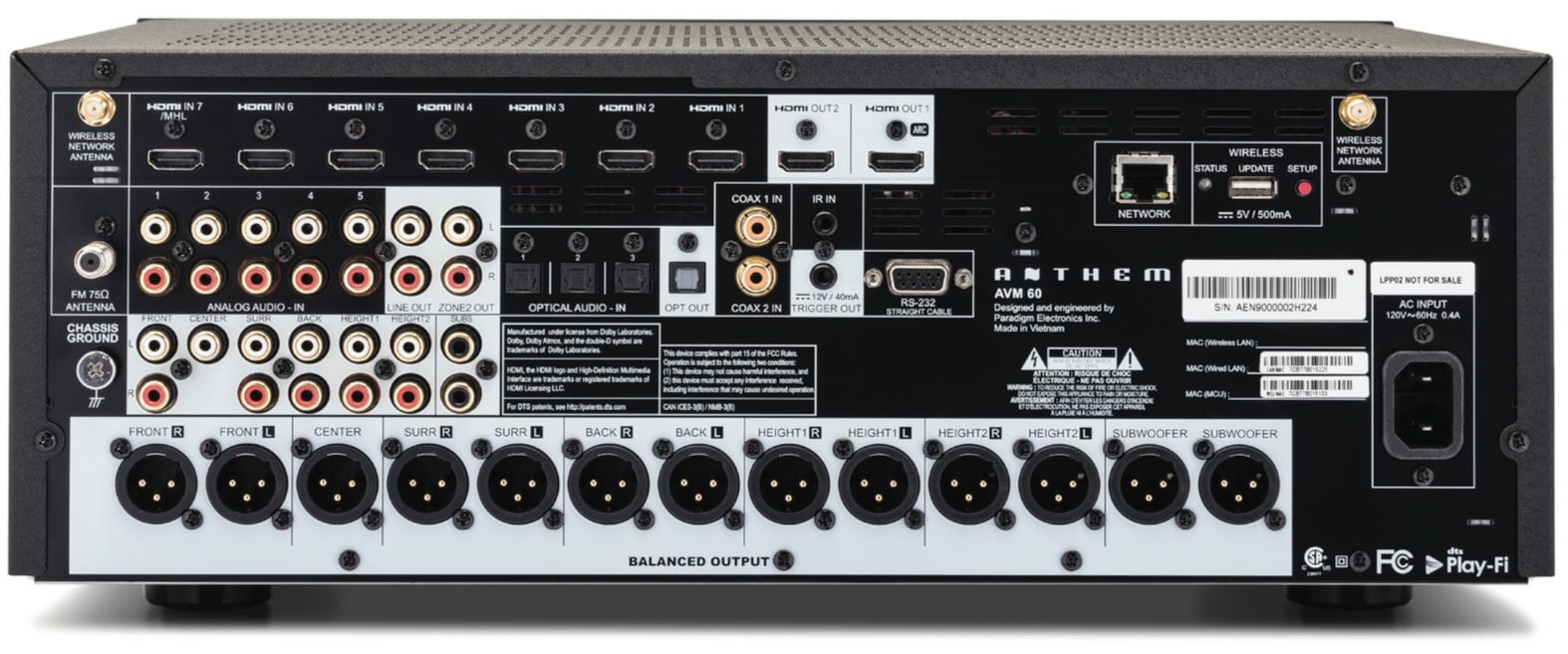 The Easy-To-Use Anthem Room Correction Kit Delivers Professional Results In Any Room
What is ARC?
Simply put, Anthem Room Correction quickly "corrects" the effects that reflective surfaces such as walls, floors and ceilings have on the sound radiating from a loudspeaker. Removing the effects of these obstacles allows your audio equipment to achieve a more natural sound in any room, as close to the lab standard as possible.
On a more complex level, ARC is a proprietary digital signal processing software that works with a specially-engineered calibration microphone and your PC to quickly and easily optimize audio for your unique listening space. Anthem engineers developed the ARC system while researching how to replicate the audio-lab standard of performance in non-lab environments. This groundbreaking research was conducted in conjunction with the National Research Council of Canada, the Canadian government's research and technology organization.
Anthem engineers realized that real world listening experiences had little in common with the controlled environment of the audio lab. That's because even the best loudspeakers are affected by room anomalies like furniture. These obstacles cause standing waves, resonances, and reflections that can color the sound you hear. Imagine the sound waves coming from your speakers as ripples on a water surface. That makes it easy for you to understand how the ripples of sound bounce off any obstruction they encounter. You can immediately see the benefit of removing the obstacles.ARC digitally compares a room's acoustic signature to that of the lab standard. It measures the response of each speaker relative to the listening area. Then it uses advanced algorithms to eliminate the negative effects of the obstacles in the room, adjusting response and correcting phase effects. When ARC removes the obstacles, what's left is the lab standard performance.
Wi-Fi Music Streaming with DTS Play-Fi®
Limitless music. App-controlled convenience. Wireless connectivity.
Everyone wants instant access to their digital audio library, anywhere in the home. And Anthem's AVM 60 with DTS Play-Fi® technology is the perfect, high performance means of delivery. Anthem AVM 60 can take full dynamic advantage of the better-than-CD-quality sound quality delivered by the DTS Play-Fi® streaming technology.
Partnered With the Leader in Wi-Fi Streaming

Partnered with the leader in Wi-Fi streaming, DTS Play-Fi wi-fi streaming technology supports a host of high quality file formats. Controlled directly from your smart device or computer in any operating system, the "Open Ecosystem" of DTS Play-Fi technology makes it easy to stream music throughout your home, and to add more wireless streaming devices on the fly.

Works with Alexa

Anthem DTS Play-Fi products now have "Works with Alexa" certification, meaning they can be controlled using voice commands given to an Amazon Echo, Echo Dot, Echo Show, Fire TV Cube, or other Alexa voice command-enabled device. Alexa functionality is activated by using the Alexa app to enable the DTS Play-Fi skill. This links your Alexa account to "Works with Alexa" DTS Play-Fi compatible products like this one.

After installing the skill, Alexa will know your speaker by name and allow you to control volume and playback functions such as track skip, mute, pause, and stop or request a song to play in a specific room or group of rooms linked together. Once an Alexa voice command is used to start audio playback, the DTS Play-Fi app can be used to dynamically add more products to the streaming session. Additionally, Alexa's Routines feature can be used to create events that initiate audio playback on your DTS Play-Fi speaker, such as setting up your speaker to work as an alarm clock by starting your favorite song.