EH-TW9300 Epson Home Projector
Home Theatre Projectors
High Definition Home Theatre Projector with Ultra Black Levels
KEY FEATURES & BENEFITS
Stunning 4K Enhancement

– Discover a whole new way to watch movies — the way filmmakers intended. Epson's 4K Enhancement Technology delivers an astonishing picture quality and even allows you to upscale 1080P content

Striking Contrast Ratio

– Experience incredible black levels with an amazing 1,000,000:1 contrast ratio to experience incredible

Lens Memory

– Allowing you to preset up to 10 positions for zoom, focus and lens shift for both standard projection and wide cinema ratios

ISF Certification

– Ensuring accurate and exceptional picture quality

Amazing Colour Brightness

– 2,500 Lumens colour brightness and 2,500 Lumens white brightness

A True Cinematic Experience

– Innovations, including Epson's unique Super-resolution with Detail Enhancement Technology, exceptional frame interpolation capabilities, as well as powerful Bright 3D Drive projection let you experience a new standard in home entertainment

Powered Lens Shift

– Lens shift technology enables outstanding installation flexibility with an incredible range of up to ±96% on the vertical axis and up to ±47% on the horizontal axis

Efficient Cooling System

– With noise levels as low as 20 dB, these are among the quietest projectors in the industry

2D-to-3D Conversion

– Easily transform 2D images to spectacular 3D for unlimited 3D content

3LCD Technology
All Epson projectors are based on 3-chip LCD technology for amazing colour, incredible detail and solid reliability. 3LCD's 3-chip architecture dedicates an entire chip to process each primary colour – red, green and blue, continuously. Unlike single-chip technology that delivers colour sequentially, you get full-time colour. The result is vibrant, realistic images and video all delivered with 3LCD's true-to-life colour.

Up to 3x Brighter Colours with Epson Projectors*
Epson projectors use 3LCD Engines that have no colour wheel with a white segment and therefore don't force a tradeoff between white and colour brightness.

In fact, Epson projectors have up to 3x Brighter Colours than their leading competitive 1-chip DLP projectors*. If you are looking for business and education projectors or 720p home entertainment projectors, know that choosing Epson projectors means up to 3x brighter colours. If you are looking for 1080p home entertainment projectors, you consistently get 2x and up to 3x Brighter Colours than competitor 1-chip DLP projectors*.

All Epson projectors list both White Brightness and Colour Brightness specifications, and all have high Colour Brightness.

Stunning 4K Enhancement
Discover a whole new way to watch movies — the way filmmakers intended. Epson's 4K Enhancement Technology delivers astonishing picture quality. Now every subtle intricacy is captured — even your most-loved films will offer something new. Plus, Epson's Detail Enhancement Technology refines surface details for true-to-life images that pop off the screen. Users can adjust levels of sharpness and detail enhancement for optimal viewing. This isn't just a new way to watch movies — it's the best way.
Upscale 1080P Content

4K Enhancement makes standard and HD content come alive. From the feathers in a plume to freckles on a nose, you'll see every incredible detail.

Pixel Scaling
Epson's revolutionary 4K Enhancement Technology shifts each pixel diagonally by 0.5 pixels for twice the vertical and horizontal resolution. Enjoy unbelievable sharpness and clarity, even closer to the screen. 4K Enhancement delivers immersive images.

Wide Colour Gamut
Enjoy brilliant, color-rich performance. The full sRGB colour gamut is visible even in the brightest mode. And, the DCI color gamut — the digital cinema standard — is also achievable.
Lens Memory
Fast, quiet and precise, the new range allows you to preset up to 10 positions for zoom, focus and lens shift for both standard projection and wide cinema ratios. Project 2.40, 1.85 and 1.78 aspect ratios on the same screen without an anamorphic lens — and no downtime when switching between ratios. Watch movies on a grander scale at the touch of a button, without any disruptive black bars.

A True Cinematic Experience
Innovations, including Epson's unique Super-resolution with Detail Enhancement Technology, exceptional frame interpolation capabilities, as well as powerful Bright 3D Drive projection let you experience a new standard in home entertainment.

Super Resolution with Detail Enhancement
Super-resolution defines edges for standard and HD content, while Detail enhancement refines surface detail for true-to-life images.

Frame Interpolation
Frame interpolation technology inserts multiple new frames between the original ones, so motion appears smoother, sharper and more realistic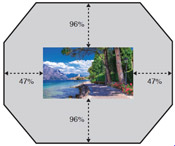 Powered Lens Shift, Zoom and Focus
In addition to added reliability and amazing colour performance, Epson's advanced projection technology enables a wide range of lens shift capabilities for outstanding installation flexibility. Boasting an incredible range of up to ± 96 percent on the vertical axis and up to ± 47 percent on the horizontal axis. Users can operate the lens shift functions using the remote control, the projector control panel, or control commands.

Imaging Science Foundation (ISF) calibration and colour management
ISF-certified calibration tools and lockable memory modes ensure accurate performance, the way film makers intended.
Efficient Cooling System
When it comes to home cinema, you want to focus on what's in front of you — and nothing else, that's the idea behind the innovative, efficient cooling system of the EH-TW9300. With noise levels as low as 20 dB, this is among the quietest projectors in the industry. It's time to enjoy engaging cinema without distraction — all the better for those moments when the picture takes your breath away.

Bright 3D Drive Technology for 3D Cinematic Adventures
Enjoy thrilling 3D adventures right in the comfort of your living room. Featuring Bright 3D Drive technology, the EH-TW9300 puts you right in the middle of the action. Epson's drive system minimises the blackout time of 3D glasses and provides greater brightness when viewing 3D content.
2D-to-3D Conversion
Transform any 2D movie, from the latest science-fiction adventure to your favourite classic, to spectacular 3D, or watch the big game in exciting 3D. It's easier than ever with convenient 2D-to-3D conversion, with just the touch of a button, you can watch your favourite shows and movies in eye-popping 3D. There are no special discs required. And, the possibilities are endless.
---
* Compared to leading 1-chip DLP business and education projectors based on NPD data, July 2011 through June 2012. Colour brightness (colour light output) measured in accordance with IDMS 15.4. Colour brightness will vary depending on usage conditions.
Equipment supplied by Epson Australia is designed to function in conjunction with genuine Epson consumables and accessories specifically configured for it.
Usage Conditions
Epson products are designed and made to give highly reliable use and long life when used according to its specifications. With any system, product or device used in situations where human life may be involved or at risk, Epson advises that you should take all necessary steps to ensure the suitability of your Epson product for inclusion in your system, and recommends that you include fail-safe procedures and redundancy support or backup equipment in your system, to maintain the maximum safety margin and optimum system reliability. Examples include but are not limited to – do not interfere with any electrical components within the device, do not use items supplied with the product for purposes other than as intended by Epson (ie mains cords, inks, CDs, plastic wrapping) and do not make modifications to the product.
This printer is designed to function only with genuine Epson ink cartridges and not with third party ink cartridges. The printer may not function properly or at all if you use third party ink cartridges.
PRODUCT NAME
Epson EH-TW9300
PRODUCT CODE
V11H710053
WHAT'S IN THE BOX
 
 
EH-TW9300 Projector, Power Cable, Remote Control + Batteries, HDMI Clamp x 2, User Manual
TECHNOLOGY
 
Projection System
RGB liquid crystal shutter projection system
LCD Panel
0.74-inch wide panel with MLA (D9, C2 Fine, 12 bit, OD)
OPTICAL
 
Zoom
1 - 2.1 (Optical)
Screen Size
50" to 300" [1.48 to 9.08 m] (Zoom: Wide)
50" to 300" [3.13 to 18.99 m] (Zoom: Tele)
Projection Distance
100" screen 3.0 - 6.3 m
Throw Ratio
1.35 (Zoom: Wide), 2.84 (Zoom: Tele)
Projection Lens F Number
2.0-3.0
Projection Lens Focal Length
22.5mm - 46.7mm
Focus Method
Powered
IMAGE
 
Colour Light Output
2,500 Lumens
White Light Output
2,500 Lumens
Resolution
1080p (4K Enhancement)
Native Aspect Ratio
16:9
Contrast Ratio
1,000,000:1
Lamp Type
250 W UHE
Colour Reproduction
Up to 1.07 billion colours
Colour Processing
10 bit (Partial 12 bit)
Keystone Correction
Vertical: -30 to +30 degrees
Horizontal: -30 to +30 degrees
Lens Shift (Powered)
Vertical: -30 to +30 degrees
Horizontal: -30 to +30 degrees
CONNECTIVITY
 
Input: Digital
2 x HDMI (1 x HDCP2.2)
Input: Computer
1 x D-sub 15-pin (RGB)
Input: Opt. HDMI
1 x USB A
Input: Control
1 x RS232c
Input: Network I/O
1 x RJ45, 1 x USB Type A (for optional Wireless LAN unit)
Trigger Out
3.5 mm mini-jack
Wireless Connectivity
Optional
ADVANCED FEATURES
 
WirelessHD
No
Super Resolution
Yes
Image Enhancement
Yes
Frame Interpolation
Yes
4K Enhancement
Yes
3D Formats
Top-and-Bottom, Side-by-Side
2D to 3D Conversion
Off / Weak / Medium / Strong
Internal Speakers
No
Picture in Picture
Yes
Direct Power On
Yes
Security
Kensington®-style lock provision
Aspect Modes
Auto / Normal / Full / Zoom / Anamorphic Wide / Horizontal Squeeze
Colour Modes
2D: Dynamic, Bright Cinema, Natural, Cinema, Digital Cinema
3D: 3D Dynamic, 3D Cinema
GENERAL
 
Dimensions D x W x H
450 x 520 x 193 mm
Weight
Approx. 11kg
Lamp Warranty
3 Years
Projector Warranty
3 Years
Power Consumption: Lamp on
355W
Power Consumption: Standby
0.35W
Noise Level
Normal / Eco: 31 / 20 dB
PRODUCT OPTIONS
Item Code
Description
 
V13H010L89
ELPLP89 Replacement Lamp
 
V13H134A39
ELPAF39 Air Filter
 
V12H003B22
ELPMB22 Ceiling Mount (Standard)
 
V12H526040
ELPMB30 Ceiling Mount (Flush)
 
V12H548001
ELPGS03 3D Glasses
 
V12H564C12
ELPAC01 Charger for 3D Glasses
 
V12H731P01
ELPAP10 Wireless LAN Adapter
 
V12H002S2Y
ELPSC21B 80" Portable tripod screen
Epson is the registered trademark of Seiko Epson Corporation. Epson ESC/P2 and Epson Stylus are trademarks of Seiko Epson Corporation. MicroDot is a trademark of Epson Australia Pty Limited. All other product names and other company names used herein are for identification purposes only and may be the trademarks or registered trademarks of their respective owners. Epson disclaims any and all rights in those marks. Specifications are subject to change without notice.