AUDIOQUEST Dragonfly red DAC, Preamp & Headphone A - DACs - Digital to Analog Converters & Bluetooth
AUDIOQUEST Dragonfly red DAC, Preamp & Headphone A
AUDIOQUEST Dragonfly red DAC, Preamp & Headphone Amp. Output 2.1v 64-Bit digital volume control. Works with Windows 7 and later, Apple 10.6.8 or iOS5 and later. Android 5.0 and later.
DragonFly Red combines significantly improved performance with still exceptional value. The ESS 9016 DAC chip in Red employ minimum-phase filtering for naturally detailed sound.
DragonFly Red includes a more advanced ESS headphone amp and a bit-perfect digital volume control that resides on the 9016 DAC chip itself—a sophisticated implementation that gives Red a unique combination of power and grip over the music. With its higher 2.1-volt output, DragonFly Red is compatible with a wider range of headphones, including power-hungry, low-efficiency models.
BIT-PERFECT VOLUME CONTROL AND 2.1-VOLT OUTPUT
Cobalt features the same ESS Sabre 9601 headphone amp and bit-perfect volume control that give DragonFly Red its unique combination of power and grip over the music. This solution ensures maximum fidelity, thrilling dynamic contrast, and excellent signal-to-noise ratio. The 2.1-volt output makes Red compatible with a wide range of headphones, including power-hungry, low-efficiency models.
FIRMWARE UPGRADEABLE
DragonFlys Red are firmware upgradeable via our free Desktop Device Manager. In today's fast-paced digital world, longevity in a hi-fi component is increasingly rare—at any price. AudioQuest believes that today's digital devices should evolve as the technology itself evolves, thereby delivering musical pleasure for many years to come. Our Desktop Device Manager will also allow you to identify your DragonFly's serial number and software version to ensure that the device is up to date.
 Click here to download the latest Device Manager available for your operating system.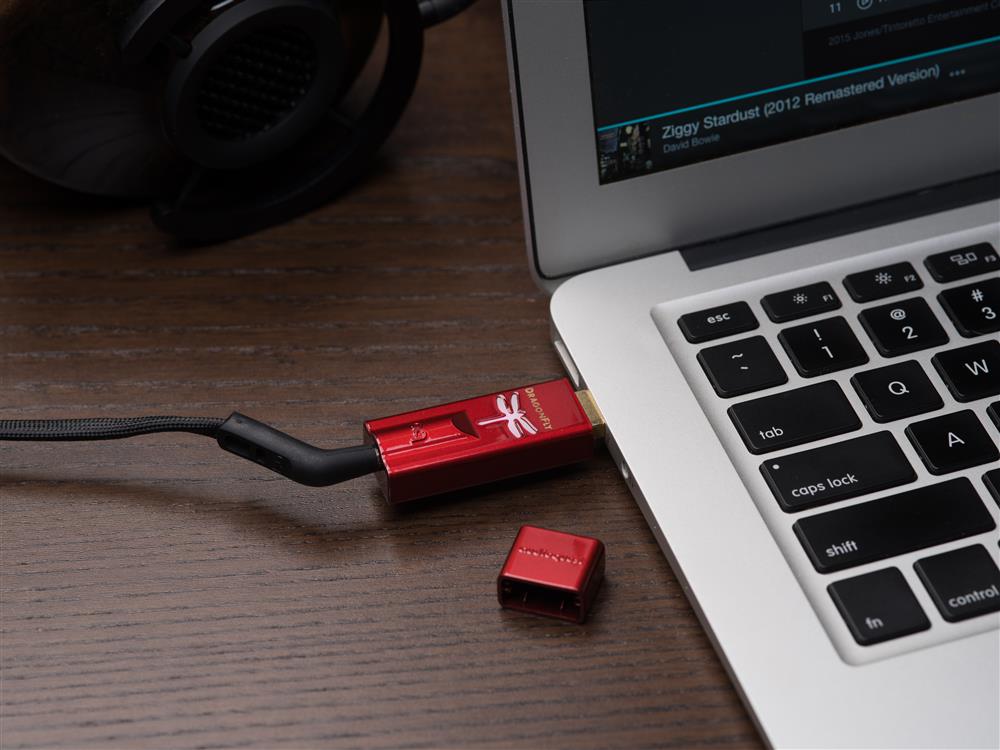 While the original DragonFly created a new category of portable DAC, its USB power draw made it compatible with computers only. Red answered the call of music lovers everywhere for DragonFlys that could be used with Apple iOS mobile devices and Android smartphones and tablets. These DACs proved for once and for all that convenience and performance need no longer be mutually exclusive.
All current-production DragonFly models incorporate 32-bit ESS Sabre DAC chips.
The DAC chips we've selected are remarkably powerful and sophisticated, yet we've intentionally limited DragonFly's processing capabilities to 24-bit/96kHz resolution. This makes using DragonFly as simple as it's always been: All models are fully compatible with PCs without having to download and install new drivers. Most importantly, DragonFly is designed to honour the music you already own and love. Whether you're listening to Spotify, YouTube, Tidal, Qobuz, ripped CDs, or state-of-the-art high-resolution files, DragonFly will deliver a more emotionally compelling and enjoyable experience.
STREAM TIDAL MASTERS EVERYWHERE
DragonFlys Red support Tidal Masters (MQA) playback from iPhones and Android smartphones. MQA's technology folds high-resolution files into smaller files that can be streamed on the go. As for MQA Renderers, DragonFlys Red complete the unfolding process, allowing music lovers to enjoy a wider selection of high-res music.
STREAM QOBUZ'S VAST CATALOG OF OUTSTANDING HI-RES MUSIC
DragonFlys Red support Qobuz high-res playback from iPhones, Android smartphones, and MacOS and Windows computers. Qobuz streams and downloads music in bit-perfect FLAC, the most widely used format for mastering and archiving, at resolutions of up to 24-bit/192kHz. With DragonFlys Red listeners can enjoy more than 40 million tracks in lossless 16-bit CD resolution and over 2 million hi-res files.
NATURALLY BEAUTIFUL SOUND IS RIGHT AT YOUR FINGERTIPS
Whatever music turns you on, wherever you are, an AudioQuest DragonFly USB DAC delivers inspiring, dynamic, and beautiful sound to earbuds, headphones, powered speakers, or complete audio systems.
With a DragonFly, music appreciation and exploration are limitless: Plug into an Apple or Windows® computer or connect to an iOS® or Android mobile device. Play YouTube or Vimeo videos. Go hunting on Bandcamp or SoundCloud. Explore playlists on Spotify or Pandora. Stream high-res audio from Tidal or Qobuz. No matter the choice of musical pleasure, DragonFly delivers beautiful sound, unravelling the emotional expression and nuance that makes music and movies so enjoyable.
Plays all music files: MP3 to MQA and High-Res
Compatible with Apple® and Windows® PCs
Compatible with iOS devices (requires Apple Camera Adapter/Connection Kit)
Compatible with Android devices (requires DragonTail or other USB Adaptor for Android Devices)
MQA Rendering
Drives headphones directly
Fixed output feeds preamp or AV receiver
Asynchronous transfer ensures digital timing integrity