Perreaux 300ix 350W 8ohm Stereo Integrated HiFi Amp - Integrated Amps
The Perreaux 300ix is a 350W into 8ohm Stereo Integrated HiFi Amp which works on anything from small bookshelf speakers to monster floorstanding towers. They are handmade to order in Mosgeil, Dunedin and come complete with their own unique test report from the Perreaux factory. The standard finish is a black industrial powder coat, high quality custom finishes are available at an additional cost.
Price:
NZ$
15,994.99
including GST
NZ$
13,908.69
excluding GST
A 300ix is currently setup in our demo room, come down and find out why this amp should be at the top of your list!
The ultimate fusion of colour and sound
Our most powerful integrated amplifier, the PERREAUX 300iX is a hand-crafted, 350Watts into 8ohm or a massive 600Watts into 4ohm, stereo integrated amplifier featuring a host of Analog and Digital audio connections including AES EBU, USB, Bluetooth Audio, Optical (Toslink) and Coaxial (SPDIF) Digital Inputs, Balanced (XLR) and Unbalanced (RCA) Analog Inputs. With an onboard, integrated 24 bit, 384k, SABRE Pro 9038 DSD DAC the 300iX is capable of playing high resolution digital files from your computer or streaming Bluetooth audio direct from your smartphone or tablet. Additionally the 300iX also features a class-leading PERREAUX MM / MC Phono preamplifier module with Earthing Terminal for simple connection of either a Moving Coil or Moving Magnet Turntable. Headphone enthusiasts are also catered to with the inclusion of the legendary PERREAUX SXH2 Headphone amplifier. This high-power, Class A Headphone amplifier easily power headphones rated from 8 - 600 Ohms. Full control of the 300iX is available via the downloadable PERREAUX Bluetooth iOS / Android app, Front panel interface or supplied hand-held Infra Red Remote Control. Rack mounting kit also available separately.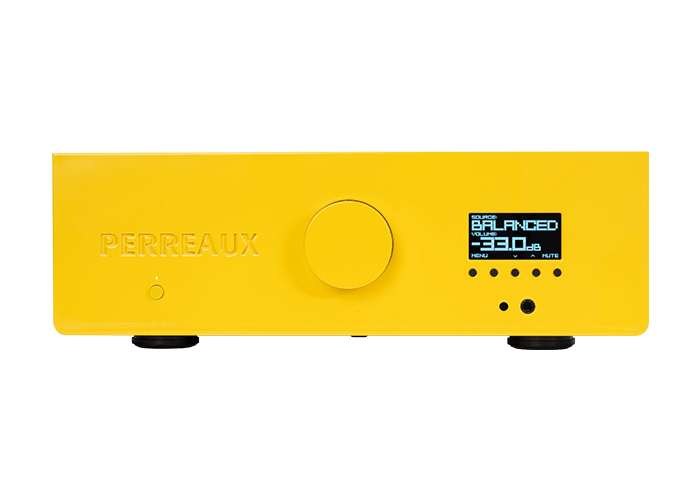 Engineered to impress - the no-compromise, 300iX stereo integrated amplifier features iOS / Android and IR remote control, Bluetooth audio streaming, Home Theatre input, integrated ultra-high resolution Digital Audio Converter (DAC), Phono module for Turntable connection and a World-class Headphone amplifier. Available in any colour or your hearts desire - or black.
"While hooking up NS-10s to a premium amplifier like this is akin to wearing runners with a suit, the 300iX drove them with ease, pumping out the glossy pop with incredible depth and accuracy. With 300 watts to work with, the NS-10s sounded immediate and crisp rather than harsh, a feat that few amplifiers can accomplish. Also of note is the quality of the DAC unit on the 300iX, bearing that instantly recognisable depth and precision that we tend to only find in converters of the rack mounted variety"
"The 300iX is clearly mature and thoroughly dialed effort."
"This potent Perreaux is fit and of low body fat but well educated and mannered so no brute."
"I thought that it looked as good as it felt well built, worked flawlessly and sounded refreshingly vital."
"Bonus points came for rounded heatsinks not even your worst enemy could cut himself on if threatened."
"With this my first-ever Perreaux, I can now appreciate how well earned the company's solid reputation is."
"A modicum of warmth comes not at the expense of speed. Forget fuzz or furriness, blur or bloat."
"Wherewithal to pound and slam joins vocal intimacy and the ability to polish embedded sheen on upper harmonics." "Regular readers of this site can think of it as a more powerful, still quicker and more feature-loaded version of Kinki's EX-M1."
"…I'd anticipated it go just a bit pear-shaped. But it refused. That I found very noteworthy."
"A great surprise to wrap up this gig on another high C was its built-in class A headfi amp. That effortlessly and beautifully drove my very innefficient HifiMan Susvara.
It's a truly serious item that won't justify keeping a separate headphone amp around."
"…the big amp's speed really excelled at spicy/spiked staccato transients
without lingering fuzz or furriness"
"It really seems that team Dunedin thought of everything and the SPF100 sun screen.
The 300iX isn't just a bad boy and a baby face. He's got education too"
"True muscle-amp virtues meet great reflexes"