Perreaux 32 bit DAC Digital/Analog Stereo Pre Amp - Perreaux - NZ HiFi
Perreaux 32 bit DAC Digital/Analog Stereo Pre Amp - Multiple digital and analog audio input sources including Balanced Analog (XLR), Unbalanced Analog (RCA), USB, AES EBU (XLR) Digital, Optical (Toslink) Digital and Coaxial (SPDIF) Digital
Price:
NZ$
3,649.00
including GST
NZ$
3,173.04
excluding GST
High performance, high resolution preamplifier connecting digital source to amplifier
Fully-balanced, low-noise, high-gain audio Preamplifier with integrated high-resolution 32 bit / 192k Digital Audio Converter (DAC). The PERREAUX DP32 is designed to provide music lovers with the ultimate in control. Featuring the high performance , asynchronous, ES SABRE 32 Reference 9018 USB Digital Audio Converter with patented Hyperstream™ DAC architecture and Jitter Eliminator the DP32 provides connection and control of multiple digital and analog audio input sources including Balanced Analog (XLR), Unbalanced Analog (RCA), USB, AES EBU (XLR) Digital, Optical (Toslink) Digital and Coaxial (SPDIF) Digital. Balanced (XLR), Unbalanced (RCA) and Unbalanced line (RCA) outputs are provided for connection to audio power amplifiers such as the PERREAUX 100p , 350 or 750 power amplifiers and external High Fidelity audio equipment. Additional features include dimmable display, touch panel, serial and full-function IR remote control, Home Theatre bypass function and Dual 12v Remote Trigger Outputs. Available to order in Anodised Silver / Black or hand-painted Midnight Black finishes. Optional Rack Mounting Kit also available - order yours today. You have to hear it to believe. It features the very best componentry and a host of analog and digital input options.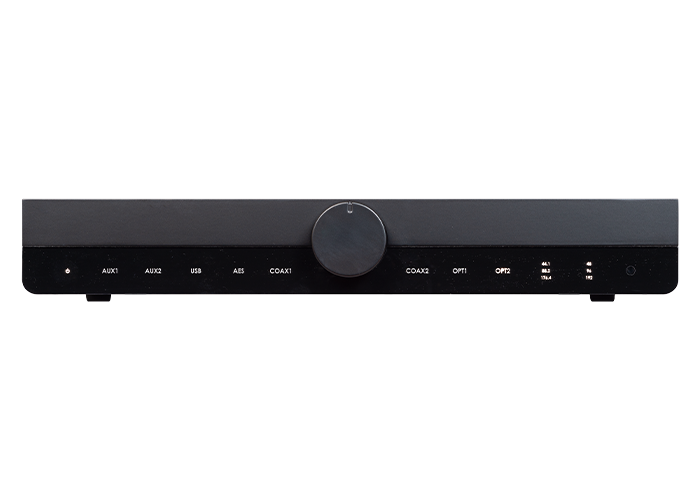 When performance matters our Audiophile-class, Digital Audio Converter (DAC) / Preamplifier the PERREAUX DP32 provides fully balanced connection and control of your audio sources. Featuring the ES SABRE 32 Reference 9018 USB Digital Audio Converter the DP32 combines a low-noise, high-precision, analog audio Preamplifier with an Mastering grade 32 bit / 192k Asynchronous DAC in a compact, slimline, road-ready chassis. Locate your nearest PERREAUX dealer to experience the DP32 USB DAC Preamplifier for yourself.