Pro-Ject Signature 12 Turntable - Pro-Ject Turntables
Pro-Ject Signature 12 Turntable
Price:
NZ$
17,599.00
including GST
NZ$
15,303.48
excluding GST
Signature is a non-compromise highend turntable that celebrates "20-years of Pro-Ject Audio Systems". A highly sophisticated concept combines the mass-loaded principle with subchassis. Magnetic feet decouple the chassis from surface, "Sorbothanepillows" and a magnetic-floating platter guarantees an absolute quiet running turntable. A "flywheel" belt drive system ensures vibration-free running. The new single-pivot tonearm is a genuine Pro-Ject design. With its wide range of adjustment possibilities and the choice of adequate counterweights, nearly all cartridges can be mounted. Signature is an audiophile marvel, that represents our championship in precision engineering and our deep love for music!
Signature 12
The uncompromising high-end turntable that celebrates 20 years of Pro-Ject!
High-End Features
12'' Tonearm
Single-pivot design
This high-end tonearm features a non-magnetic low resonance construction with minimised bearing friction.
Flywheel
Vibration-free belt drive
Its flywheel belt drive system ensures a vibration-free running which results in the most accurate and stable speeds.
10 kg Platter
Mass loaded aluminium
The 10 kg aluminium platter is TPE damped and sits on an inverted bearing which is magnetically decoupled. The vinyl layer on top is the perfect surface for your record.
33/45 RPM
Speed change on touch display
Easily change or fine-adjust the speed step-by-step on the built-in touch display. The precision generator ensures the perfect playback speed with the utmost precision.
Steel pellets inside the MDF chassis increase the mass of the Signature 12. As it is not from solid alloy a ringing effect will be avoided.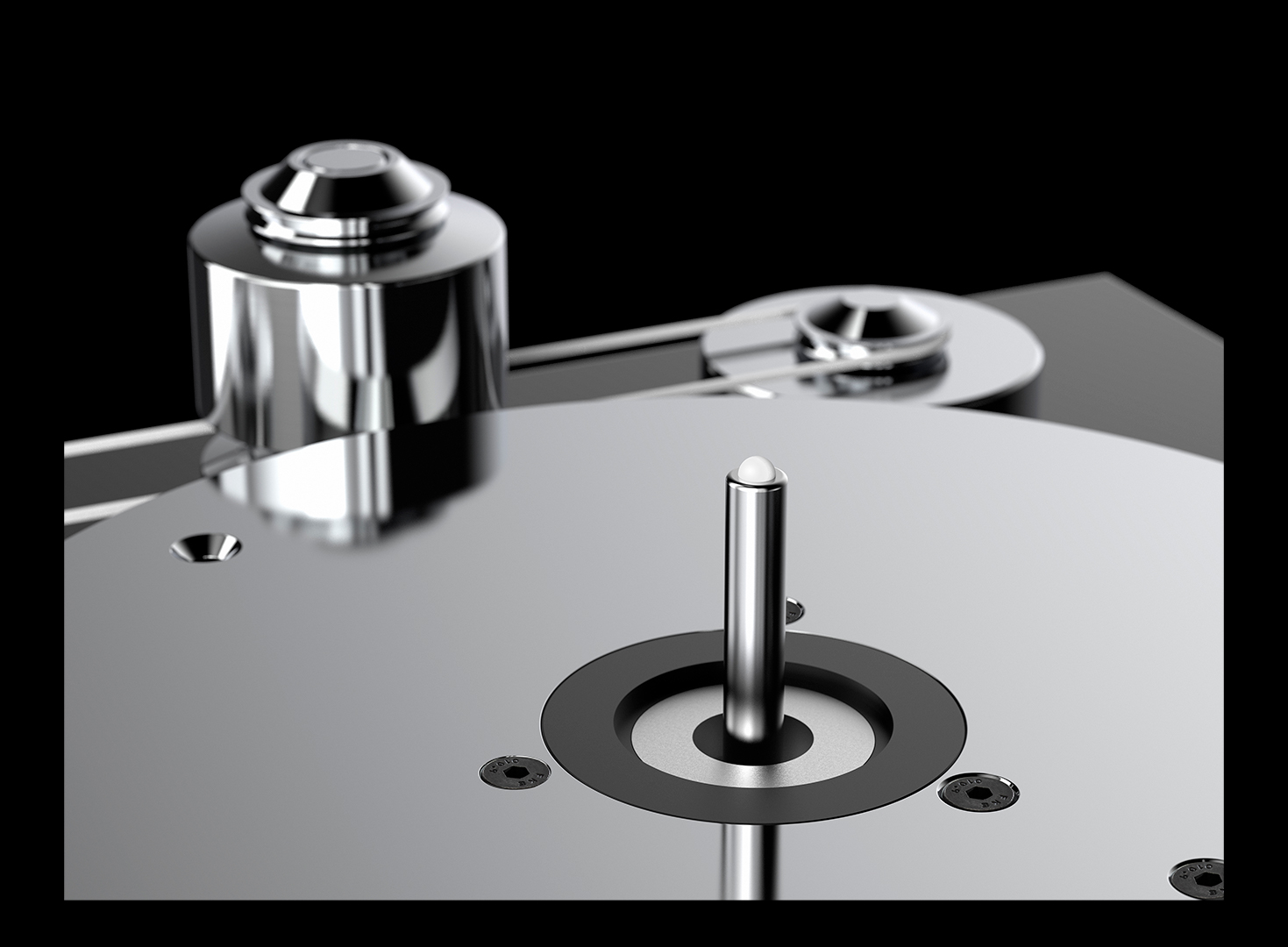 The magnetic-floating platter runs ultra-silently on an inverted ceramic ball bearing and guarantees an absolutely quiet-running turntable.
Step by Step.
Unpacking
Wooden Box with everything you need
Your Signature 12 comes safe and secure in a big wooden box with everything you need to set it up correctly.
Setup
Perfect setup for the best sound
With the included Measure it S2, Align it DS2, Level it and many more accessories the setup is made easy.
Connection
Connect it 5P-CC RCA
To guarantee a perfect connection to your amp you will find a high-quality carbon-copper tonearm cable in the box.
Enjoy!
The most important step
Put on a record, place the clamp on it, start the motor, lean back &
Mass-loaded subchassis design
Magnetically decoupled main platter
Resonance-optimised alloy
Inverted main bearing with ceramic ball
Flywheel belt drive
Motor control system with LCD display
Single-pivot tonearm
High gloss metal surface
Piano-lacquer chassis with magnetic decoupling
Tonearm
| | |
| --- | --- |
| Length | None inches |
| Material | |
Dimensions
| | |
| --- | --- |
| Shipping Height | 0.42m |
| Shipping Width | 0.74m |
| Shipping Depth | 0.61m |
| Shipping Weight | 5.85kg |
| Unit of Measure | EA |