Rotel RC-1590 MKII Reference Pre-amp - Rotel
Rotel RC-1590 MKII Reference Pre-amp
Price:
NZ$
4,199.00
including GST
NZ$
3,651.30
excluding GST
Reference audio systems deserve reference audio equipment. Rotel's RC-1590MKII reference preamplifier renders audio with natural expression, an open sound stage and dynamic clarity. Analog, Digital, Bluetooth and Turntable sources are supported by a bespoke acoustic tuning process inviting you to bring your favorite music allowing the RC-1590MKII to immerse you.
Support MQA and MQA Studio

Texas Instruments premium 32-bit/384kHz Digital to Analogue Converter

Moving Magnet Phono input for turntable connection

Wireless aptX™ and AAC Bluetooth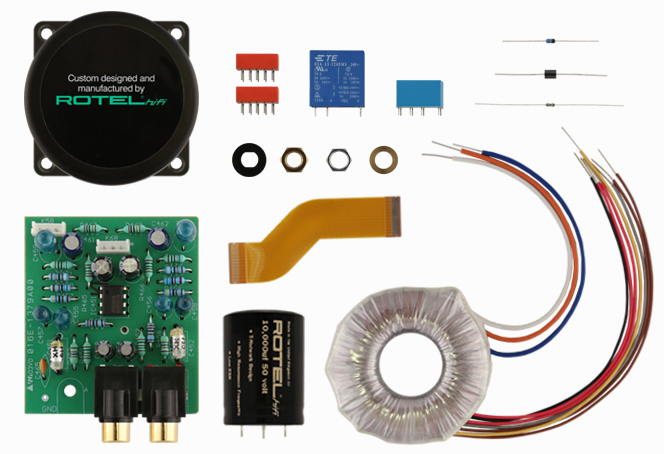 431 × 144 × 348mm
17" × 5.7" × 13.9"
3U / 132.6mm (5.25")
45W
STANDBY POWER CONSUMPTION
<0.5W
10.1kg (22.27bs.)
78 BTU/h
TOTAL HARMONIC DISTORTION (THD)
(20Hz–20kHz) <0.002%
FREQUENCY RESPONSE

Line Level Inputs: 10Hz - 100kHz (+0dB, +0.1dB)
Digital Inputs: 20Hz - 20kHz (0±0.5dB, Max)
Phono Input: 20Hz - 20kHz (+0.3dB, -0.2dB)
S/N RATIO
 (IHF "A" Weighted)
Line Level Inputs (RCA): 117dB
Line Level Inputs (XLR): 115dB
Digital Inputs: 108dB
Phono Input: 80dB
INTERMODULATION DISTORTION
(60Hz:7kHz, 4:1)
<0.002%
Line Level Inputs (RCA): 150mV
Line Level Inputs (XLR): 250mV
Digital Inputs: 0dBFs
Phono Input (MM): 2.5mV
Line Level Inputs (RCA): 100kΩ
Line Level Inputs (XLR): 100kΩ
Digital Inputs: 75Ω
Phono Input (MM): 47kΩ
Line Level Inputs (RCA): 4V
Line Level Inputs (XLR): 5.5V
Phono Input: 64mV
Unbalanced (RCA): 1V
Balanced (XLR): 2V
Line Level Inputs (RCA): >85dB
Line Level Inputs (XLR): >75dB
Phono Input: >85dB
±10dB at 100Hz / 10kHz
COAX/OPTICAL DIGITAL INPUT SIGNALS
LPCM (Up to 24-bit/192kHz)
USB Audio Class 1 (up to 24-bit/96kHz)
USB Audio Class 2 (up to 32-bit/384kHz)
*Driver installation required
MQA and MQA Studio (up to 24-bit/384kHz )
Roon Tested