Rotel RMB-1585 200W x5ch @8ohm Power Amp - Rotel
Rotel RMB-1585 200W x5ch @8ohm Power Amp.
The RMB-1585, Rotel's flagship theatre amplifier, provides both the massive power and sonic sophistication required by the finest home theatre systems. With five channels, each capable of producing 200 continuous watts each into 8 ohm loads (a full kilowatt of output power!), the RMB-1585 masters any A/V system regardless of speaker load or room size.
But it isn't just pure output power that distinguishes the RMB-1585. It's the ability to reproduce both the dynamics of a Hollywood blockbuster and the musical nuances of acoustic instruments that sets it apart. Where does this balance come from? It's a direct result of Rotel's celebrated Balanced Design Concept in which circuit topology and parts selection meld in the pursuit of sonic excellence.
Price:
NZ$
7,399.00
including GST
NZ$
6,433.91
excluding GST
The pinnacle of performance in Rotel's superb multichannel power amplifier range, the RMB-1585 features 5 x 200 Watts to drive even the largest home theater speaker systems.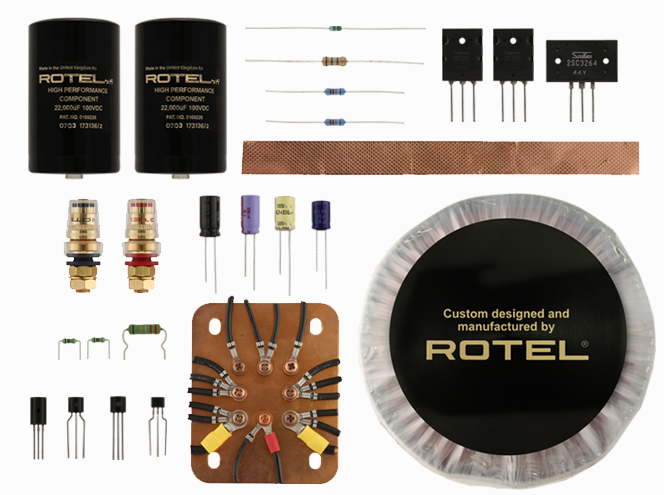 5 x 200 Watts of robust power

Class AB amplifier design

Massive power supply using Dual Toroidal
Transformers

High quality slit foil capacitors made in
Britain

Optional rack ears available
Dimensions (W × H × D)
431 × 237 × 454mm
17" × 9.4" × 17.9"
Front Panel Height
5U / 221mm (8.75")
Power Requirements
120V, 60Hz
Power Consumption
1100W
Standby Power Consumption
0.5W
Net Weight
36kg (79lbs.)
BTU Rating (4Ω, 1/8th power)
2372 BTU/h
Continuous Power Output
200W/Ch (All channels driven, 8Ω)
Total Harmonic Distortion (THD)
(20Hz–20kHz) <0.03%
Frequency Response
10Hz - 100kHz +0.5, -3dB
S/N Ratio (IHF "A" Weighted)

116dB
Gain
26.5dB
Intermodulation Distortion (60Hz:7kHz, 4:1)
<0.03%
Damping Factor
260
Speaker Impedance
4Ω minimum
Input Sensitivity
Line Level Inputs (RCA): 1.9V
Line Level Inputs (XLR): 3.8V
Input Impedance
Line Level Inputs (RCA): 12kΩ
Line Level Inputs (XLR): 100kΩ